This past January while scrolling through Instagram I saw an ad for a teal curly lace front wig and I immediately sent the link to my brother,  telling him that I had found my next New York Comic Con cosplay project – the (probably) misunderstood and mysterious Eclipsa Butterfly, Queen of Darkness from Disney's "Star vs. the Forces of Evil."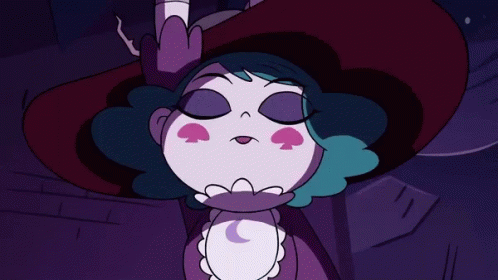 If you follow me on Instagram I showed you just how supportive my brother was of this choice in cosplay as he gifted me a huge black sun hat for my birthday solely for this purpose. After I had the hat in my possession I knew there was no turning back on this plan so into cosplay-construction mode I went.
As much as I love cosplay, the sad reality is that I can't sew anything beyond fixing buttons and hems which makes projects like this a bit of  challenge.  Thankfully eShakti has a huge inventory of dresses that you can customize so I was able to find a  quarter sleeve, stretchy jersey knit fabric, midi-dress that worked well for this. I sent in my measurements, shortened the hemline to make it knee-length and I received another great addition to my dress collection/closet cosplay arsenal.
The dress has a sweetheart cutout which combined with the empire banded bodice makes for an overall flirty look when worn on its own. Also it has pockets! Trust me, if you have ever attended a comic con you know that pockets are a godsend for holding things like your phone and your wallet while you're walking through the many booths on the show floor.
I managed to find a white jabot collar that was not only similar to the one that Eclipsa wears but was also big enough to cover the cutout neckline of the dress.* I couldn't find a lavender crescent moon charm that I liked and I didn't want to ruin the collar by adding a sew-in patch to it, so I went with this gold filigree moon charm instead that I hung from a chain.
Cosplay is all about recreating a character in the real world and sometimes that means putting your own spin to things. For example, even though Eclipsa is known to wear elbow-length opera gloves, I went for finger-less lace gloves instead so that I can use my cell phone without any issues. That said, underneath her gloves she does have dark purple hands with vein-like marks extending to the rest of her arm so I thought a good way to reference that was to paint my nails a dark, almost black-purple. I applied two layers of the Wine With Ice, Garcon nail polish from Pretty Woman NYC to get this desired effect.
Then we have the aforementioned hat. To avoid potentially damaging this statement accessory, I used a glue gun to attach feathers to a satin ribbon that I then tied to the base of the hat. Admittedly my feathers are a bit more pompous than Eclipsa's to the point that Jonquel, along with other con attendees, got into physical fights with it throughout the day. (Seriously, I lost count of the number of times Jonquel yelled at me for accidentally whacking her in the face.) Yet I felt it worked well with the character. Eclipsa is a queen after all so she deserves all the attention-grabbing feathers she wants.
Ironically, the one thing I didn't actually get, besides a long handle parasol to customize into her wand, was the wig that inspired this cosplay to begin with. It wasn't for lack of trying either. Some unfortunate financial issues came up in late August into early September that reduced my cosplay budget to the point of being non-existent so I wasn't able  to do that. However,  considering how much fun I had being the Queen of Darkness for a day,  I will be actively working on fine-tuning the details of this cosplay.
8-inch Brim Sun hat **| eBay (similar here and here)
BLESSUME Victorian Chiffon Jabot Collar | Amazon
Vibrant Garnet Cutout Cotton Knit Fit-and-Flare Dress | eShakti (sold out, similar here and here)
Dr. Scholl's Frankie Women's Ballet Flats | DSW (similar here)
Positive Intentions Gold Moon Pendant | Michaels
Gorse Lace Fingerless Gloves | Amazon
---
Have you ever thought about using custom clothing sites like eShakti for cosplay?
* Style note: I regret not using fashion tape to hold this collar down because it would lift at the slightest breeze so I constantly had to adjust it throughout the day. Lesson learned.
**  This hat does provide the kind of drama anyone would like to include in their look but it also reduces your peripheral vision. Not only that but it is much heavier than you think.